Jason Heyward signed an 8-year, $184M contract before the start of the 2016 season. He received $15M last year. In spite of the great contract, Heyward put up 1.6 only fWAR. That's right, he hit .230, slugged .325, with only 7 bombs (a career low) and stole just 11 bases. Heyward was supposed to be the Cubs leadoff hitter and center fielder until Dexter Fowler returned on a one-year deal as Spring Training began. Instead of the offensive, good base running, excellent defensive center fielder the Cubs had envisioned, they got someone who was missing two of the tools they wanted, and Heyward quickly became a disappointment for Cubs fans.
What Heyward did contribute was excellent defense. In fact, he had the third most defensive runs saved for a right fielder with 14, only Mookie Betts and Adam Eaton had more. He had the 14th most DRS in all of baseball last year, and was 5th in UZR/150, a metric used to predict how many runs above average a fielder is per 150 games. According to UZR/150, Heyward was 21.6 runs above average last year.
While Heyward has been known for his defense, 2016 may have actually been an off-year for the right fielder. In 2015 while playing right field for the Cardinals, Heyward had 22 DRS, and the year before that he had 26 in Atlanta. Through his seven major league seasons, Heyward has 120 career DRS, averaging over 17 a year. So while his already excellent 14 DRS last year was good, it would not be unreasonable to assume that he can save even more runs next year.
Looking at the two graphics above, we can see that Heyward caught just about every ball he was expected to catch, according to Hang Time of the ball and Heyward's distance from the landing spot of the ball. He caught every "easy" ball and missed just one "routine" play the entire year. He also made most of the "tough" and even made a few "highlight" catches as well. In fact, almost the balls he missed were more difficult than highlight reel catches, in other words balls that were almost impossible to catch.
While Heyward contributed much defensively last year, he did not get much going at the plate. According to FanGraphs' overall offensive metric, Heyward was the 5th worst offensive player in majors. He had 72 wRC+ which was good for 2nd worst in the league.  His slashline of .230/.306/.325 gave him an OPS of .631. His batting average dropped more than 60 points from 2015, and he knocked .114 off of his slugging percentage. Overall, it was a terrible offensive season.
So does his stellar defense make up for his lack of contributions at the plate? FanGraphs WAR seems to think it came close. In a year that Heyward received $15M, he should have been worth about 1.875 fWAR, using $8M/win as a way to estimate contracts. In the end, he was worth 1.6 fWAR. Keep in mind that even after being the 5th worst hitter in the league he still came extremely close to being worth his contract, at least for this year. Heyward is set to make $21.5M next year, meaning he has to be better to be worth the contract the Cubs gave him. The real question is whether he can be worth over 2.6 fWAR next season, his expected performance given his contract.
****
I think he can do it. His lowest batting average prior to this season was .254, and he never had a slugging percentage below .384. His defense has continued to be excellent, even if it has trended downwards the past few years. Even in a bad season, Heyward still had good BB% (9.1%) and K% (15.7%) which are both very close to his career average, perhaps even better with regards to striking out less. He was still disciplined at the plate (he had a 41.3 Swing%, compared to 41.1 Swing% last year) so he is still seeing the ball well. He is still making contact (85.5 Contact%, even better than 2015) and striking out less.
The only things that seemed to go wrong for Heyward, at least stat-wise, was his Soft and Hard Contact rates. Last year, his Soft Contact rate rose over 4%, while his Hard Contact rate went dropped 4% which is the opposite of what players want. If he can get back to hitting the ball well, I would expect Heyward's previous offensive success to continue. He is walking the same amount, striking out the same amount, continuing to make contact, but the ball just hasn't been dropping. His batting average on balls in play was only .266, well below the league average of .300. Part of that comes with hitting the ball less hard, so he if he can increase his Hard% I would expect him to return to his previous success.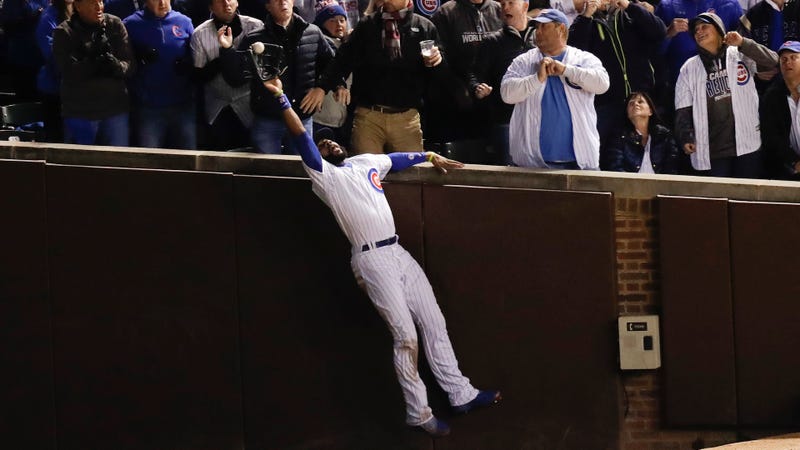 Both Steamer and Depth Charts have Heyward bouncing back next year, at least to a certain extent. Steamer has him slashing .268/.347/.415 and being worth 3.1 fWAR, and Depth Charts is predicting Heyward is worth 2.9 fWAR. He should hit with more power (both have him hitting 13 home runs next year) and stealing more bases (11 and 14 respectively) while keeping good BB% and K%. Both of the projections also predict he will have a wRC+ of 100 or more, meaning he will be at least league average offensively while hopefully not sacrificing anything defensively.
In case he doesn't put up good numbers or gets injured, the Cubs still have some options, as both Kris Bryant and Ben Zobrist can play in right. While playing Zobrist and Bryant in right takes them out of their natural positions, it would open up a spot in the infield for Javier Báez. Nevertheless, while Heyward struggled at the plate in 2016, he made up for it partially by playing excellent defense, which his replacements likely wont be able to do.
Look for Heyward to bounce back next year and put up good numbers both offensively and defensively. He still has plenty of time to make up for a disappointing season last year.